That's a lame title for this post, but seriously…
In case you didn't see it on Instagram, Facebook, or Twitter, I WON TICKETS TO THE WORLD SERIES!
That's the headline and good news in the story. The not-so-good-news is that I ONLY won tickets to get into one game. I didn't win transportation to get there. I didn't win tickets to more than one game. I didn't win hotel accommodations or any other special perks. Of course, winning tickets and getting there are two very different things. We don't even know who will be in the World Series. As of this writing it will either be Boston or Detroit from the American League and St. Louis or Los Angeles from the National League.
But let's stick with the headline – I WON TICKETS TO THE STINKING WORLD SERIES!
It was a Twitter contest run by Major League Baseball. I was randomly selected from everyone else that was trying to win the tickets at the same time. The promotion was in conjunction with Pepsi and called, Locktober.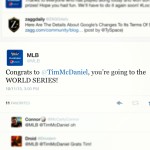 But again – tickets to where? Detroit, Boston, Los Angeles or St. Louis. As a lifelong Detroit Tigers fan, it would be great if they were to come back from their 3-2 hole and beat Boston. However, I've never been to Boston, so that would be nice, too. And Fenway Park is historic. Dodger Stadium and Chavez Ravine are iconic as well, but Los Angeles is a long way away. I've been to the old Busch Stadium in St. Louis, but not the new Busch Stadium.
The agent for MLB contacted me and asked which game I'd like to go to, so I said Game One. The World Series is a best 4-out-of-7, so picking one of the first 4 games only makes sense – you don't even know if there will be a game 5, 6, or 7.
The first two games are in the American League city and the next 3 are in the National League city. I figured that the most excitement is probably at Game One, and going to Detroit or Boston would be good.
Game one is Wednesday, October 23. And we won't know if it's Detroit or Boston until this Saturday or Sunday, October 19 or 20.
Airline flights are expensive. The only relatively cheap flights are out of Fort Lauderdale – 2.5 hours away. But driving isn't much of an option, with the closest city – Detroit – over 20 hours away. And that doesn't factor in possible hotel, car rental, food…
Tickets? Yes, two. And, no, I'm not taking you – my son, Sammy, will go with me. If we go. But if we don't go, I can't sell them or transfer them.
Eeesh. Who knew winning something would be so difficult?
But I WON TICKETS TO THE WORLD SERIES!
I'll let you know how it goes.