Spent the last few days at the Southeastern University Leadership Forum. This a phenomenal event, originated by former SEU president Mark Rutland and continued under Chancellor Tommy Barnett.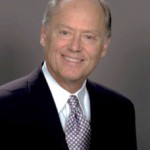 The Forum is an intimate conference of only about 700 people. The size is largely dictated by the small SEU chapel which hosts the three day event. This makes it very different from larger events, such as Catalyst or Willow's Leadership Summit. There is VIP seating in the first few rows, then reserved seating in the next few, but the fan-shaped auditorium is only about 12 rows deep, so you're not far away even at the remotest point.
When you combine this intimate and exclusive setting with some world-class speakers, you have a winner, and this year's Forum was definitely another winner.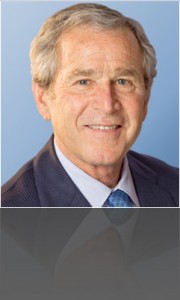 I hope to break down what I learned from each speaker in subsequent posts. (Though with my track record in blogging, I wouldn't bet on it.) But I want to make sure to write about the highlight of the 3 days, and what everyone had been pointing to, the appearance of the 43rd President of the United States and his wife, George W. and Laura Bush.
The format of the Forum is that each speaker has anywhere from 30 minutes to an hour or so to speak. Both Laura Bush and the former President were listed as speakers, so I had wondered exactly how long they would actually be there.
But let's backtrack a minute, to set the scene.
It was a dark and stormy night, as Snoopy might say, and the heavy rains continued this morning. We had been told that security would be tight today, and that we would need both our Forum badge and our driver's license to get into the chapel.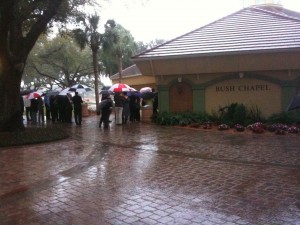 The first session started at 8am, with the doors opening at 7:30, so we arrived about 7 am to stand in the rain and wait for the doors to open. We wanted to be sure to get some good seats for the eight of us that were attending from Faith. (I should explain that when I say "we", I mean myself and Rich Fimbel. I had ridden with Rich from the hotel.)
The main road in front of the University had been closed to regular traffic and there was definitely an increased law enforcement presence on campus.
At our lunch break, in contrast to the other days, we were told that we had to take all our belongings with us, since security would be sweeping the chapel in anticipation of the Bush's arrival. We were also told that the same would be true at our 3 o'clock afternoon break.
Of course, taking our belongings meant that we couldn't save our seats, so I made sure I was back from lunch early enough to get near the front of the line again.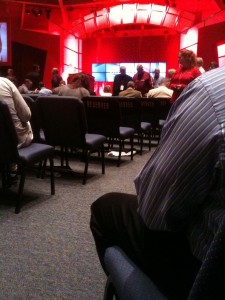 I was able to re-secure our seats…about 9 rows back, on the right hand side, on the aisle. There really weren't any bad seats.
At the 3 o'clock break, which came at 3:05 p.m., we were informed that we wouldn't have to take our belongings with us after all, and that we had until 3:30 p.m.. That announcement was quickly corrected to say that the break would only last until 3:15. That was difficult, since it didn't leave us any time to actually do anything. No one wanted to be shut out of the chapel when the Bushes arrived.
Thinking back, it's interesting, because I don't remember hearing the sound of any sirens upon their arrival. This was probably because the SEU jazz band was busily entertaining us as we came back from the break.
I stepped out into the lobby to watch as the SEU students lined the sidewalk leading up to the chapel's side door to welcome former President and Mrs. Bush. I could tell someone was entering the side door, so I hurried back to my seat in time for the actual entrance.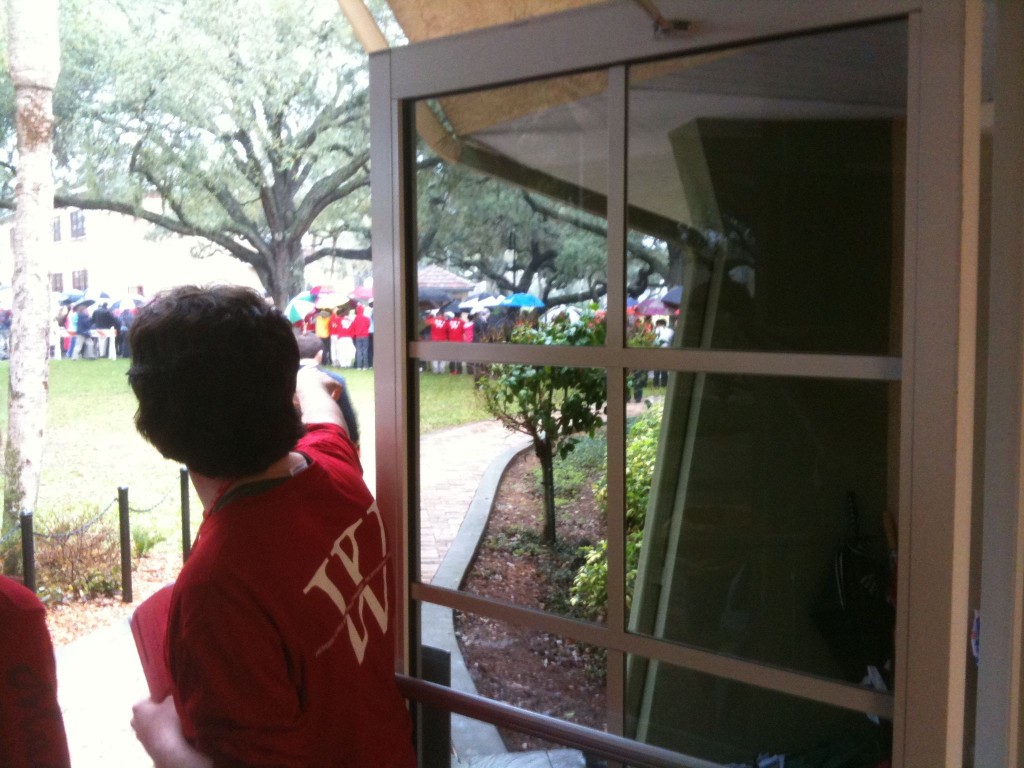 The presence of additional security along with the Secret Service was immediately apparent, as two or three agents took up their posts at each side of the front of the stage. Other Secret Service personnel could be seen around the chapel. I could see a Sheriff's deputy and one or two other agents in the sound loft at the rear of the chapel. You could feel the energy rise in the room.
As the band played, we could see the top of Laura's head as she entered the side door. There was an immediate, loud, thunderous standing ovation which lasted for a minute or two. The band finished their song, then launched into a spirited rendition of "In the Mood".
What the crowd was in the mood for was what they got after about a minute as POTUS #43 entered the building to another raucous standing ovation. The dreary and rainy afternoon had suddenly lit up inside the chapel.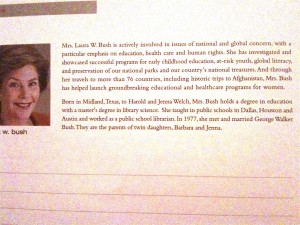 After the band finished, Dr. George O. Wood, General Superintendent of the Assemblies of God and former guest on the BibleQuizPodcast, introduced Mrs. Bush by reading the two paragraph bio printed in our program. She then launched into a prepared speech that lasted roughly 40 minutes.
She recounted her role as an educator and promoter of reading programs for children. She talked about what she did as First Lady. Then she talked about the changes that took place after 9-11. The first part of her speech was nice, but mostly generic. She caught us up on how the family was doing, where the girls are, and how they enjoy being private citizens in Dallas.
The most memorable part of her speech was the end, as she recounted September 11, 2001. She was in Washington, D.C. that morning, on Capitol Hill. As the planes hit the Twin Towers, she was moved to Senator Ted Kennedy's office, where she watched the Towers fall. It was interesting that Kennedy and Mrs. Bush spent this time together – political rivals sharing a critical and confusing moment. She said she was comforted by having Sen. Kennedy there, and that he seemed to be trying to ease her mind by providing small talk as the situation developed.
She ended her speech by recounting the famous "first pitch" thrown by then-President Bush at that October's World Series. She told how nervous she was, and how proud she was of how her husband performed.
After yet another standing ovation, she was escorted to some comfortable "interview" chairs by Joyce Meyer, who had been one of the Forum presenters. Meyer started by saying she had twelve questions to ask in fifteen minutes.
Her first question was, what did Laura miss most about being the First Lady? Her quick reply – the chef.
Meyer then pointed out that during Laura's telling of 9-11 and the World Series game, she saw tears from George. Laura replied that she had never given that speech with him in the room. This was more than a rare event – this was the first time the two of them had been presenters at the same event.
The rest of the Meyer-Bush interview was very good, but I don't remember much of it. Laura did seem a little tired, and I wondered when and where she had started her day.
As Meyer escorted her from the stage, Tommy Barnett got up and simply said, "Help me welcome the 43rd President of the United States, George W. Bush!"
This, of course, brought a very long and loud standing ovation.
I expected him to go to the podium and give his own speech, but Bush immediately went with Tommy to the interview chairs where for the next hour they had a very lively, informal, candid and informative discussion. I was very surprised with how open and relaxed Mr. Bush seemed to be.
There were several standing ovations during the talk, and Bush would quickly motion for everyone to sit down and cut it out, once telling us, "You're wasting time!" Barnett assured him that he was speaking to a very receptive, supportive group.
We were forbidden to use cameras – either still or video – and I sat there desperately wishing I could use one to capture the moment and be able to remember what was said, because the candor was quite remarkable. Mr. Bush explained that he insisted on no TV cameras being present because he wanted to be able to relax and not have anything he said be used for political purposes. After the Bushes left, Barnett remarked that we had been given a rare privilege and that the former President had entrusted us with his honesty.
(I guess I should mention that I'm not writing this post for attention, and I certainly wouldn't want to upset anyone at SEU or the Bush family. I'm not media, and, even though this blog is public, I don't expect many people will actually see it. This is simply my recollection of what I've experienced, intended for my circle of family and friends.
However, I did disobey…sort of. Here is a clip, not of them speaking, but of the setting as Laura was being introduced.)
Here are some other highlights from the Barnett-Bush conversation…
On the responsibility of the President:
"Make tough decisions" and don't demean the Office of the President. The Office of the President and the respect and dignity of it was very important, and continues to be important as an ex-President. Former presidents continue to have a responsibility to uphold that dignity. (I wondered if this was a subtle dig at a certain former Arkansas governor. Or perhaps even a former Georgia governor.)
On leadership:
Great leaders set aside their egos and serve something greater than themselves. You shouldn't serve a political party, even though the political parties are important and necessary. Once you are elected, you have to set aside self and what you want in order to achieve the greater good.
Other thoughts and quotes:
He talked about his early life, and how he wouldn't have been President or probably even alive if he hadn't quit drinking. He had – like most alcoholics – insisted that he was in control of it, even though he wasn't. Laura had confronted him, and he was eventually confronted by his own logic.
He talked about his mom and dad and how "unconditional love enabled me to take risks in life."
When asked who his favorite President was, he told how there is a place where every President hangs the portrait of the President that most influenced them. He drew a laugh when he said that "obviously, I have conflicted feelings." He said, "the portrait of the 41st President hangs in the place of honor in my heart," but that one of the 16th President, Lincoln, physically hangs in the place of honor. He admires Lincoln because when he wrote that "all men are created equal under God", he was speaking with moral conviction, that he had a vision and looked beyond the moment. He remarked that Lincoln's vision was remarkable, that it was quite remarkable to say such a thing back in 1863.
Bush said that a leader – that the President – "must have a set of principles that you won't trade for popularity." He thinks the President must be willing to "take the heat" and "give other people the credit."
One of the most interesting parts of his hour in the interview chair was his retelling of his perspective of 9-11 and his thought process of that day. He said that everything changed for him that day. From that day forward his overriding purpose was to promote freedom throughout the world.
He said that on 9-11, the first plane he chalked up to a mistake, the second plane was an attack, but when the plane hit the Pentagon, that was a declaration of war. He said the real problem with this war is that "the farther you get away from the moment" the reasons you went to war in the first place fade from peoples minds. They forget why. Then, as you make decisions to protect and defend, people misunderstand because they have forgotten why you made the decisions in the first place.
He said when a terrorist was caught – the C.O.O. of the Taliban – and he was assured that this man had vital information, and if we got it, thousands of lives could be saved – the C.I.A. assured Bush they could extract the information. Bush said he first asked his team of lawyers, "What's legal?" When they told him what could legally be done, he ordered it to be done. Thousands of lives were saved. But later, political opponents forgot the importance and want to stop the same methods.
He also talked about some of the tough talk he used in regards to the terrorists and nations who sponsored terrorism, such as, "Dead or Alive" or "hunting down" the terrorists. He explained that he had four audiences that he was speaking to at the same time: the country as a whole, the enemy – who were using the lives of innocent people for their own twisted ends, the people of Iraq and Afghanistan – who deserved to be free and needed to know that there is a big difference between desiring to be free and actually taking a step to be free, and our military.
The interview meandered between the public and the personal, between the development of his faith in Jesus Christ and his portrayal in the press. He talked about foreign policy and China and how it's important that we stay away from unilateral agreements which diminish America's voice, and insist on bilateral negotiations where we can push for freedom.
Bush also said that he wouldn't second guess the current President, because he didn't like to be second-guessed when he was President, and he believed in doing unto others as you would have them do unto you. He said that he was proud that in campaigning he never resorted to name calling.
Bush talked about his dad and how much he learned from him. He said, "I was the most prepared person to ever be elected President. I didn't have the best resume, I was the best prepared."
There was applause as the former President talked about his younger brother, Jeb, former governor of Florida. He said he wished Jeb would run for president, but really didn't think he would. He expressed admiration that Jeb had his priorities straight and that he wouldn't run because he was concerned for his family.
Some of his final comments were about peace in the Middle East and how much he thought it was dependent on democracy and freedom being established in the Middle East. He knows that some poeple think he is naive, but he firmly believes in freedom. "I believe women will bring democracy to the Middle East."
I'll repeat my feeling that it was a very remarkable afternoon. Both Bushes are preparing books to be released this fall, so I'm sure most of what they were saying was from that material, but former President Bush was very likable and engaged. He is 63, and you could sense his continued passion. I was also struck by his intelligence and good humor. Many times he referenced names and places, with many difficult pronunciations. Never did he slip, as the media and comics like to portray him.
Once, in telling the story about meeting Russia's Alexander Putin, he told about traveling to Slovenia, and how he was glad the press hadn't asked him during the election if he knew where it was, because he couldn't have told them. It was funny and typical.
The Putin story was very interesting. He told how nervous and anxious Putin seemed at their first meeting. Putin was addressing Bush about the Russian debt and Bush interrupted him to ask, "Is it true that you have a cross that your mother given you that was blessed in Jerusalem?" By answering the question, Putin was disarmed and able to relax. Bush said that their relationship later got harder, because the increase the value of oil seemed to change Putin.
Bush also told about talking to the leader of China about religion, warning him that every time they talked, he would talk about religion and religious freedom. He said he asked the Chinese president – whose name I can't remember – if he wouldn't rather have a nation where its citizens lived up to the principles in the Bible.
It was a fascinating discussion. When it was over, the Bushes and their entourage waved goodbye and the Forum was quickly over.
If you were there and want to add your thoughts, please comment. The Lakeland Ledger also filed a story and a couple of pictures, even though media was not allowed inside.